Rent a bike in Paris
differently...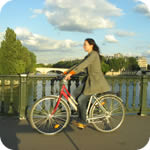 Paris Bike Tour offers a variety of ways to rent a bicycle in Paris.
We provide you with everything you need to plan your own original bicycle tours of Paris. Our bicycles are light, modern and comfortable. For your comfort and security, a choice of accessories is available on request: helmet, basket, baby seat, poncho, map of Paris and bikepaths…

With now more than 500 km of bikepaths, Paris has become truly 'bicycle-friendly'.
Bike rental in Paris
Rent a bike in Paris at our agency in the heart of the capital city
Paris Bike Tour 13 rue Brantôme - 75003 Paris, open everyday from 9.30 am to 6.30 pm
Reservation advised .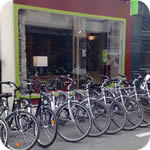 RENT A BIKE IN PARIS
Rates
1 day
(8 h)
1/2

day


(4 h)
1

day


(24 h)
Add day
Add hour
Week
15 €
12 €
20 €
10 €
2 €
Week-end
16 €
13 €
20 €
10 €
3 €
Special offers WEEK END
(From sat morning to sund night)
28 €
Download official Paris Bike lanes
Bicycle woman Accessories Bicycle man



Rental conditions :
- You must leave a deposit of 300 euros per bike and your ID (copy)
- All bikes rented are insured for third party liability
- All damage to or thefts from & including the bike are at the expense of the customer
Download PARIS BIKE TOUR rental conditions
Or save time and make the most of your stay in Paris by allowing us to deliver and pick up the bike
to and from the comfort of your home.
Bike rental in Paris with delivery
You can have your bike delivered with just a quick and easy phone call to 0033 (0)1 42 74 22 14 or by taking a couple of minutes to fill in & send the website reservation form
We will pick the bike up from the same drop off address in the evening
Reservation Obligatory –at least 24 hours in advance
Prices
1 day
Add day
At least 4 bikes
35 €
10 €
If you require a larger number of bikes or extended hire duration please contact us