Paris en Seine A unique spectacle is waiting for you! Everyday at 10am
During this guided bike tour you will discover Paris along the river Seine, classified by the UNESCO as world cultural heritage since 1991.
Welcome to the official website of the famous Paris Bike Tour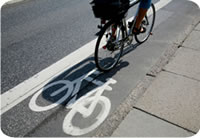 What better way to visit the most beautiful city in the world than by bicycle? That's
exactly what Paris Bike Tour offers you.

While in the heart of the city allow yourself to take in all the charms of Paris as you enjoy a bike
tour led by fully licensed French guides. Through a variety of tours (classic, customised or walking), Paris Bike Tour knows how to please tourists from all over the world by knowing how to match culture with entertainment and friendliness.
When travel and consuming are intertwined with being sensitive to the environment, our
exceptional tour guides will help you discover an ecologically responsible way to explore Paris – off the beaten path.
Paris Bike Tour
Discover Paris by bike
+33 (0)1 42 74 22 14
info@parisbiketour.net

10 /10 Write / Read a review
Gilpatrick -

Mrs

« Wow what a fabulous way to see so much, learn so much and enjoy. Great value for the amount of Paris we got experience. We strongly recommend this tour company and their guides. Thank you so much for a wonderful day. »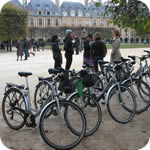 You want to discover hidden treasures of Paris that are inaccessible by bus or car?
Discover Paris of the true Parisians, hidden gardens, amazing architecture and the vibrance of an overlooked by most tourists.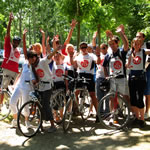 A friendly way of getting together, sharing a smile or two and having fun doing something original...
Paris Bike Tour is the place to relax with your co-workers or your guests on an easy-going tour of Paris either by bicycle or on foot.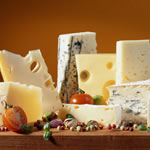 Discover the Paris that only a Parisian could know. From the Place de la Bastille to the Quais de Seine. Enjoy a food tasting at the Aligre market - the most Parisian of markets, where you can taste all the high-quality produce of the region…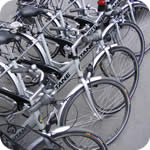 You can rent your bike with all necessary equipment at our agency in the heart of Paris.
And if you don't want to waste time during your stay, we can deliver and pick up the bike to and from the comfort of your home.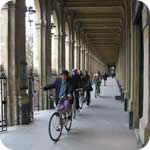 Free yourself of transport hassles and discover Paris and its monuments with a professional guide:
Example: "Paris – a journey through time"
We start with a guided visit of the Carnavalet Museum, - the most Parisian of Paris' museums - to discover afterwards the historic city centre by bike…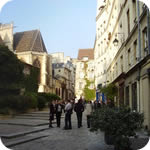 Enjoy a walking tour of Paris and discover the City of Light's rich history and culture with a professional guide:

- Le Marais "from the past until now"
- The elegance of Paris "The elegance of Paris"
- City Islands "birthplace of Paris"
- Montmartre "from Mercury god to Van Gogh"